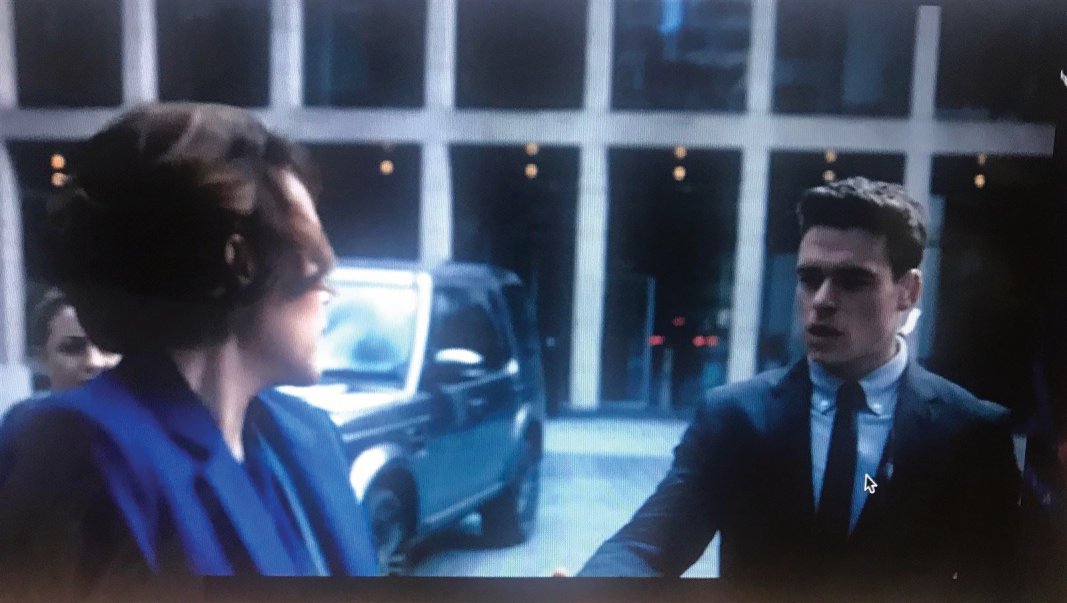 The phenomenon that is BODYGUARD charting the relationship between a personal protection officer (PPO) David Budd and Home Secretary Julia Montague raises some key HR questions about personal relationships within the workplace.
In the situation between Budd and Montague, the main challenge and concern is not just due to Montague's profile and important position within the government; but also due to her seniority.
It is vital that Organisations have a clear code of conduct policy in place covering relationships at work. Most public funded Companies have policies requiring specific actions to be taken in the event of a relationship developing in the workplace. The scope is vast- varying from a relationship being banded completely, to them being allowed but only under specific circumstances. Where a clear company policy is not in place, it is recommended that employees are encouraged to disclose a change in their relationship status to their manager or to their HR department. A risk assessment is also suggested to determine the possible effects of the relationship,  particularly where the relationship is between manager or senior personnel and a direct subordinate. In some cases it may be necessary to transfer one party to an alternate department or business site, or one party may be required to resign based on the impact to the business. In other cases both individuals may be allowed to remain with caveats put in place to safeguard both parties and the Company as a whole. These include restrictions on decisions which may affect both parties such as salary reviews or increases, duties etc. And both parties would be deterred from sharing confidential information with each other that in regular circumstances they would not be privy to.
The overall key to ensuring both parties are protected in line with the Company's duty of care - whilst remaining in the businesses best interest - is that clear policies must be in place and enforced.
For a
FREE HR health check
on your policies, procedures and forms to ensure they are GDPR compliant and will protection your business from risk, contact Harries Human Resources today on 01206 865464 OR email:
[email protected]
A number of Company's now allow employees to use their own devices, such as smart-phones, computers and tablets, to carry out their duties. By your own devices have clear benefits: including a creating a more effective way of working, increased flexibility and productivity which all contribute to a happier working environment boosting morale.
However as with everything there are pitfalls. With the increased growth or employees using their own personal devices to do their work consideration should be made regarding the level of security on these personal devises. Many of us have a relaxed approach to the level of security applications and features applied to our devises and are not stringent in ensuring security updates are carried out and updated regularly. As such there is an increased risk to the security of information held; not just trade secrets but confidential employee records not being stored or secured correctly.
As confirmed in the BYOD guidance issued by the Information Commissioner earlier this year, liability for lost personal information remains the employer's, not the employee's, responsibility regardless of where the information was stored. Fines for breaches of the Data Protection Act 1998 can be up to £500,000. A fine is not the only reprimand; there is also the possibility of criminal liability.
As an employer if you allow the use of BYOD then it is essential you have in place a robust and comprehensive BYOD policy. The policy should outline matters such as back-up of data, restrictions on accessing certain types of data and data encryption on removable and local devices. Implementing a BYOD policy will ensure employees using their own devices do so in accordance with the Data Protection Act 1998.
Harries Human Resources are able to provide comprehensive policies and procedures in line with current legislative changes to support your business. To get your free copy of the new "BYOD Policy" contact Harries HR on
[email protected]
. 
It is a well known fact that it is good practice to maintain good audit trails through written records of discussion to log performance both good and bad in respect of employees. However is it a good idea to allow an employee to make an audio recording of a formal or informal meeting?
A number of employers believe that when an employee attends a meeting, such as a grievance or disciplinary hearing, particularly if they waive their statutory right to be unaccompanied, it is reasonable to allow them to tape record the meeting if they request to do so.
Harries HR's suggests that permission for such request should not be given. We recommend explaining that they may take notes and that you will take minutes of the meeting and that they will be provided with a copy and will be given the opportunity to query any points they consider to be inaccurate. This will ensure a true record of the discussion can be mutually agreed.
Tape recordings can be tampered with and the quality of the recording can give the opportunity for misinterpretation, potentially leaving the company exposed to risk.
Audio recordings are admissible as evidence at a tribunal as long as both parties have copies of the recording and a transcript in advance. 
Though one may disallow recordings employees may still secretly record any meeting you have with them.
It is essential therefore to always ensure that you seek advice from an expert such as a CIPD or employment law qualified individual! Choose your words carefully! Remember that if dealing with a difficult employee you can always adjourn the meeting to allow time to 'regroup' or even seek further advice as to how to proceed.
If you need assistance dealing with a difficult employee issue and would like further support then please call Harries HR who can provide support on a pay as you go or retained basis!
Throughout June a debate was sparked across a multitude of social network portals asking the question; Does good looks improve your employment prospects?
With the internet dating website beautifulpeople.com planning to launch a recruitment agency, it further perpetuates the belief that looks count for a lot both personally and now professionally. The concept from beautifulpeople.com is to enable employers to post their vacancies on the website and invite good looking applicants to submit their CV's. This announcement has been met with outrage. However in a recent survey Harries HR spoke with several high street employment agencies who agree that better looking individuals are more likely to get job offers in this competitive job market. Some have even noted an increase in the number of candidates now including pictures with their CV's and applications.
With this trend increasing are we likely to see the government move to create a further protective characteristic to include the aesthetically challenged to the discrimination grounds list?
As unpleasant as a dating site based on looks alone may be the proposal of applicants being excluded from employment opportunities solely on their looks raises serious legal and ethical concerns. As with other subjective opinions on race, disability and age, the assessment of someone's suitability for a job is and should be based on their capability, skills and experience. The risk of another assessment method may leave employers at the end of a discrimination claim. Our recommendation is to stay away from these types of tacky gimmicks!
If you need support on your recruitment and selection campaigns based on ethics and finding the best person for your Company contact Harries Human Resources on 01206-856464 today. 
It has not been very long since the public fury over the scandal involving several MP's and their expenses. Therefore, one would assume nobody would risk the potential fallout from submitting expenses for personal items or mileage they have not incurred in the proper performance of their duties?
Sadly it appears that many employees, given the opportunity, may still see fit to embellish their expenses. Based on our calculations up to a quarter of expenses are 'fiddled' and as such fraudulent. A significant number of claims submitted are a result of human error as opposed to a deliberate attempt to defraud the Company. Though employees may be 'sloppy' with their claims if they are confident nobody is really checking what they submit this enhances the risk of additional items or miles being added here or there.
71% of people in a recent survey felt it was acceptable to inflate expense claims if their employers did not fully reimburse them for the costs they had incurred.  In this same survey 68% of people also thought it was acceptable if employees did a certain amount of overtime and were not paid for it.  And finally 24% felt it fair if they were not paid what they considered to be a fair wage.
So what can Employers do?
Make certain everyone understands the policy and processes in place in respect of expenses.
Ensure employees know what they are allowed, and not allowed, to claim.
Have the right people in place to scrutinise all employee expense claims to guarantee they are correct.
Make certain that cross checking all expenses are carried out before final approval.
Finally check the claims submitted by the individual who authorises everyone else's expenses to ensure that they too are beyond reproach under scrutiny.
 


If you believe you may have an issue with fraudulent expense claims, Harries HR can provide confidential and sound advice on how to manage this correctly from an employment law perspective. 

 


Call us without delay on 01206 865464... Expect More!

 





 


The Public Interest Disclosure Act 1998 is often referred to as the Whistle-blowing Act. Employees who "blow the whistle" on their employer by making a protected disclosure, such as a exposé concerning an alleged criminal offence or other wrongdoing, have the legal right not to be dismissed, selected for redundancy or subjected to any detriment due to the disclosure.




A disclosure made in the public interest will be protected where the employee makes the allegations base on a reasonable belief of wrong doing by the employer. It is therefore recommended that all Companies develop a simple but readily accessible procedure for dealing with these types of allegations.




As of 25 June 2013 several important amendments to whistleblowing legislation come into force.




Section 17 - 20 of the Enterprise and Regulatory Reform Act 2013 amended the relevant provisions of the Employment Rights Act 1996 confirming that:




1.a disclosure will not be protected unless it is, in the reasonable belief of the worker making the disclosure, "in the public interest";

2.a disclosure no longer has to be made "in good faith" to be protected, but an employment tribunal may reduce a worker's compensation by up to 25% if it appears to the tribunal that a protected disclosure was not made in good faith;

3.a worker has the right not to be subjected to a detriment by any act or deliberate omission by another worker employed by his or her employer on the ground that he or she has made a protected disclosure; and

4. a worker has the right not to be subjected to a detriment by any act or deliberate omission by an agent of his or her employer acting with the employer's authority. 




An employer will be vicariously liable for any such acts or omissions committed by another worker or an agent. An employment tribunal will also be able to hold the other worker or agent liable. The employer will have a defence in tribunal proceedings if it can show that it took "all reasonable steps" to prevent the other worker from committing the act or omission, or any act or omission of that description. 




If you do not have a fit for purpose whistleblowing policy or procedure in place contact Harries HR for a free consultation on 01206 865464 NOW!




 


After the media hurricane surrounding Paris Brown and her comments on tweeter swiftly followed by Trainee accountant Emma Way boasting about knocking a cyclist off his bike on twitter, more and more employers are asking what can be done to safeguard their business from risk whilst respecting the employee's right to a private life.




It is without doubt that social media is an integral part of a business's success in today's economy. Social media tools are being used as part of large scale sales and marketing campaigns, innovative methods of recruiting new staff as well as a method to interact easily with customers and employees alike. Facebook, Twitter, Linkedin and Google plus have paved the way for a paperless existence where virtual communication may soon be the only form of communication. However, with the ever growing cross-over of personal and profession lives and the impact comments both past and present can have raises the question, what can employers do to manage employees' use of social media?




Where employers become concerned as a result of an employees' lackadaisical use of social media and there is a fear of the detrimental impact on the business avoid an instantaneous reaction. If a social media comment is made where the employer feels aggrieved and alarmed at the message or content consideration and a full assessment should be carried out. Ascertain whether this has or could cause serious damage to its reputation.




In the case of

Smith v Trafford Housing Trust

, Smith commented on his Facebook page that he was against gay marriage. He was subsequently disciplined by the Trust because they felt the comment caused offence and damaged its reputation. It was found that the employee in expressing his views had not brought the Trust into disrepute and as such he had not breach his contract of employment. Employers before taking disciplinary action must consider if there is a real risk of reputational damage and if this can be demonstrated under scrutiny.




To mitigate risks employers should ensure they have in place a robust social media policy. A large majority of employers are now moving to a state of not allowing access to social networking websites from its computers at any time and also restrict access to certain websites. In addition to ensure confidentiality and its reputation is protected, when using social networking sites some employers request that employees do not identify themselves as working for the Company. Further steps can request that employees ensure their interactions do not damage working relationships between members of staff and the Company's clients. The policy should clearly express what behaviour (both at work and outside work) may be considered inappropriate. This can then be monitored in line with the Company's Computer and Electronic Communication Policy. Employers may then have a legitimate grievance if an employee brings the organisation into disrepute or creates an issue between the business and its customers.




If you do not currently have a Social Media Policy or Computer and Electronic Communication Policy in place, you are at risk!




Have your policy created and tailored to your business. Ensure a thorough implementation of the policy by providing appropriate training. This will reinforce the businesses positions highlighting that the employees know exactly what is expected of them in respect of social media and their comments.




Call or email Harries Human Resources

NOW

to discuss the creation and implementation of this much needed policy today on 01206 865 464 or

[email protected]

.

0

/