| | |
| --- | --- |
| Posted on April 7, 2020 at 6:41 AM | |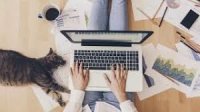 With working from home becoming the norm due to the recent COVID19 outbreak, we at Harries HR suggest some top tips for staying motivated and productive while self-isolating.
Tip 1 - Create a clearly defined work space. This can be set up at the start of your working day on your kitchen table or in a designated area of your living room. Try to keep in mind display screen equipment (DSE) workstation recommendations when creating your work area to minimise repetitive strain or other injuries.
Tip 2 – Prepare a to do list with key tasks for completion every day. Prioritise these based on four key factors:  urgent and important, important but not urgent, not urgent and not important. Ensure the non-urgent and non-important tasks are dropped to the very end of your task lists.
Tip 3 – Keep your work time and personal time strictly separate. Stick to your normal working hours and do not procrastinate or become distracted with household chores or items.
Tip 4 – Dress for the work day. Avoid staying in your PJ's. For maximum productivity get up, get dressed and arrive at your home workstation as you would for a normal day in the office.
Tip 5 – Stay connected. Use the amazing tools available through systems such as Zoom, Microsoft teams, Hang out calls or skype to stay in touch with your work colleagues. These tools minimise social isolation which can develop while working from home and is a good way to boost engagement while remote working.
Tip 6 – Take your rest break! Step away from the screen and stand up or walk around for 5 minutes every hour you work/sit. It is easy to work through without a break when you are busy, but a key element of high productivity is essential rest. So, prepare you lunch and snacks the night before and have ready as you would if you were working in the office.
Tip 7 – Set boundaries if you do not live alone. Ensure your partner, children or pets are either kept outside of your designated home workspace or discuss and establish rules so you can stay focused.
Tip 8 - Stay off social media. Try to minimise how often you check Facebook, twitter, Instagram or snap chat throughout the day. Set limits for yourself to only 3 times between 9am and 5pm and only during tea, lunch or your predetermined rest breaks.
Tip 9 – Work to your sound track of life. If your role allows it, set up a work play list and wear headphones to listen to music that motivates you and keeps you focused.
Tip 10 – Reward yourself at the end of each day. Create a routine which signals the end of successful day and follow that at the close of each home working day. This can be as simple as shutting down all work-related emails and apps and putting away all paperwork and going for a walk.
Harries HR have several tool kits and policies to support home workers. Please contact us if you have any questions or if you need support with transitioning your team to working from home.
Categories: Information
/