| | |
| --- | --- |
| Posted on December 17, 2019 at 6:38 AM | |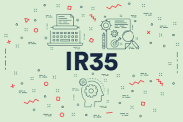 IR35 relates to the situation where a worker (example a contractor, freelancer or consultant) supplies their services to a Company via an intermediary (i.e. the individual's own personal service company).
IR35 is also known as the off-payroll working rules and the intermediaries legislation.
"IR35" refers to the number of the original HM Revenue and Customs press statement about the rules.
The IR35 rules are aimed at preventing tax avoidance where a worker is engaged through an intermediary. IR35 applies if the worker would have had employee status had they been engaged directly by the end client.
Under the reformed IR35 rules, which have applied to the public sector since April 2017 and are due to be extended to the private sector from April 2020, it is the client engaging the worker that is responsible for assessing their employment status to determine whether or not IR35 applies.
The reformed rules provide that, if IR35 does apply, the party that pays the worker's fees (this could be the engaging client or an agency) is deemed to be their employer for tax and national insurance purposes. The fee-payer must pay national insurance contributions (NICs) and the apprenticeship levy, if applicable, in relation to the worker and must deduct income tax and employee NICs from their fee.
Under the current IR35 rules in place in the private sector, the intermediary has been responsible for deciding whether or not IR35 applies and for operating PAYE in relation to the worker if it does.
Harries Human Resources are offer a FREE HR Health check to any Company who want to check if their Contractor, Freelancer or Consultant may fall into this category or not.
Categories: Information
/